Rossia ***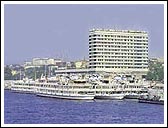 Adress:
82 Maxim Gorky Str, Samara 443099, Russia
Location:
Samara international airport - 50 km/31.1 ml
Samara local airport - 5 km/3.1ml
The three-star Hanza Hotel (3 floors, 12 rooms) is located in the heart of the city close to the Volga river embankment. The city administration, the Philharmonic Hall, the Opera and Ballet Theatre are not far from the hotel. Airport - 1 hour. Railway station - 15 minutes.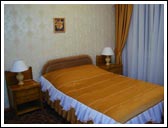 Rossia has modern rooms for one or two persons decorated with comfortable and nice furniture. In all-convenient rooms you can have at one's disposal TV set, refrigerator, telephone. And a beautiful view to the Volga river you can have from every room in any season. Room prices includes: breakfast, newspaper delivery, mineral water, shoes cleaning, using an iron, shower cap, shower packet, individual clothes packet, shampoo, soap, toilet paper, individual sewing set. In de Luxes and extra-Luxes you can have a double dressing-gown. Silence, comfortable and nice furniture, cozy lounges will provide you a good rest.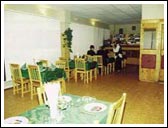 Services:

Hair-dressing;
Parking for Hotel clients near the entrance;
International telephone - you can order it from you room using a credit with paying later in cash at the reception or you can use international telephone near reception;
24-hour shop on the ground floor, consumer goods and souvenirs. You can order goods to the room;
Hotel Business Center will arrange you successful work, to held a business meeting or a short conference;
Conference Hall will arrange you to have a business conference or a seminar;
Extra-pay Safes are located on the ground floor;
Ironing, laundry, sewing - in order at you floor-keeper, will be carry out in one day;
Call for taxi or microbus - 24 hour;
Booking a ticket - airlines, railway;
Booking a theater ticket;
Excursion by foot around the sights of historical center- is free for our clients; every Sunday 11:00-13:00;
Billiard room - on the lounge of 8-th floor;
Tourist services: packet-tour (2 days/3 nights), packet-tour (5 days/4 nights), transfer, guide, interpreter.

Make your reservation now!