Samara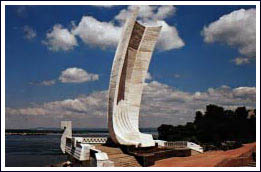 Samara is situated on the left bank of the Volga-river, at the eastern frontier of the Samarskaya Luka (Bend) where the picturesque Zhiguly Mountains originate. At present Samarskaya Luka is a National Park. It is one of those rare earth places where pre-glacial period relic plants and animals have remained thanks to the unique natural conditions. Samara was founded as a fortress in l586. In due course it became the chief town of the district and after the formation of Samara province it became the principal city. In the early XX-th century Samara was a big trade center. Agricultural processing was predominant in the area.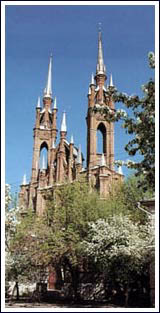 The natural beauty of the Volga-river spaces attracted painters since olden times. Artists such as Repin, Ayvazovsky, Levitan, Savrasov painted from life on the Volga banks. The world famous writer A. Tolstoy spent his childhood and youth in this city. M. Gorky created more than 30 literary works when he lived in Samara.
During the Great Patriotic War (World War II). Samara (Kuibyshev at that time) became in fact the second capital of the USSR. The largest defence plants, creative intelligentsia representatives (writers, actors, composers) and diplomatic corps were relocated here to escape the ravages of the war. Years passed and Samara grew into a large industrial and cultural center. The main branches of industry here are mechanical engineering, oil production, power engineering and chemical. Local plants design and assemble modern aircrafts and space-sistern equipment.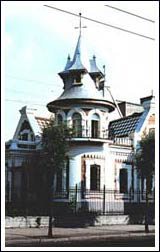 The city look has changed lately. Today Samara citizens enjoy many parks. The embankment on the Volga-river is a favorite strolling area. Inimitable in their beauty are city streets due to the architectural variety of styles. One can see Empire, modernist, Old-Russian, constructivist-style housebuildings, a great number of eclectic buildings-examples of the so-called merchant architecture. Whole districts of old houses with corner turrets and steeples, decorntecl with wooden fretwork, are preserved in this city. One must admire the German church and the Gothic arches of the only Polish Roman Catholic church in the Volga area. The Orthodox church and cathedral domes sparkle in the blue sky.
The cultural assets of the city include Philharmonic Society, opera and ballet, drama and children's theatres and many libraries, institutes and universities. Samara museums possess rich collections of unique art works.
Picturesque Samara with its clear Volga water and sandy beaches attract people from different parts of the area. Many river-boats fnrm three and four-decker cruise ships to hydrofoils ply the water ways. Mariy tourists came daily to the city by river boats. Samara is a transportation hub with a large railway junctivn and international airport.