National ***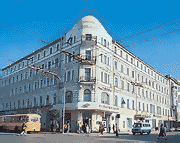 Adresse:
91 Frunze str., Samara, 443099
The three-star National Hotel is located in the historical city centre not far from the trade area. The Volga river, the Philharmonic Hall and the Opera and Drama Theatre are next to the hotel. The hotel was built in 1902 and reconstructed in 1999. Airport - 1 hour. Railway station - 10 minutes.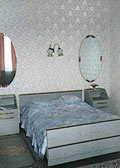 The are 62 rooms in our hotel, one and two-room high and first class. The room area makes from 30 to 60 square meter. The ceiling heigh makes from 3,5 to 4 meters. The hotel rooms meet all require ments of modern comfort, there are international phones with direct diar, color TV, refrigerators, wall, floor and table lamps, set of plates and dishes, furniture, carpets, doors are equipped with safety looks. Room of high class are equipped with air conditioners. Rooms are furnished with modern soft furniture. Lobby halls are designed with art compositions, greenery. The TVs in rooms are tuned to 16 channels.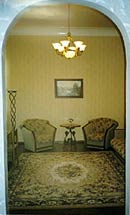 The hotel "National" offers services to its guests as follows:
Luggage office and individual safes.
Health improving center, which includes sauna hall, massage cabinet, training hall and relax room. The sauna hall is equipped with hydromassage, shower-baths, Swedish "dry" sauna. There is a racing track, bicycle training equipment with complete information (time, distance, speed, pulse etc.) and monitored loading, trainer Kettler-Ultra with 4 stations (for training of various groups of muscles), dumb-bells, hoops, scales in the training hall. Business-center, conference with 70 places, modem communication facilities (international telephone, telefax). The salon-room is creating, where the quests can relax in comfortable environment of their visitors and companions. The conference-hall will be equipped with audio and video recorders for business aran-gements. Excursion service around the city visiting bunker of Stalin as well as the trips out of the city around the Volga places, visiting Togliatti-city are organized.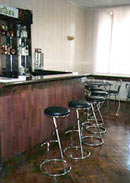 For hotel guests is guaranteed rendering a medical aid.
Fax will be sent for you, photocopies will be made.
The hotel disposes of transport, provides with transfer.
The services of security, call of taxi are furnished.
The masters of barber's shop will make good mood to the visitors. To be in good form will help the visiting massage-room.
The modern fire alarm system is operated in the hotel.
There is a self-cooking kitchen in the hotel.
The Spanish restaurant "El Toro" is founded in the building of the hotel. At the hotel cafe you are offered delicate dishes of Russian kitchen, room service is available, breakfasts are served. Protection of the property, security of hotel guests is provided by the department of police station and by security service of the popular firm in the city "Votum". The employees of security firm are good trained and provide with calm and safety of the guests.
Make your reservation now!