Restaurants of Veliky Novgorod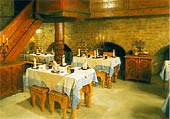 DETINETS RESTAURANT
Open: from noon to 4 p. m. & from 6 p. m. to 11 p. m.
Located in the Kremlin's Intercession Tower (16th - 17th c.)
The restaurant interior and wooden tableware are finished in ancient Russian style.
Meat and fish dishes follow old Russian recipes: "Po Derevensky" (country style) soup,
"A-La-Tsar" fish-soup, "Boyarsky"borsch, "Pokrovskayu" rissole, "Posadskoye" meat, etc.
Cold and hot appetizers are served with cold and hot Russian drinks: medovukha (mead),
zbiten (tea with spices), honey kvass.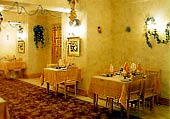 "PRI DVORYE" RESTAURANT,
"MYASNOY DVOR" CO
Open: from noon to 4 p. m. & from 6 p. m. to 11 p. m.
This restaurant of Russian national cuisine is at Your service.
Features:
45 seats;
two bars (for 20 and. 10 persons);

Always offered in the menu:
broths with rassteguys (open-topped pasties);
frikkadels, meat patties, dumplings;
a variety of fish and meat appetizers;
specialties: "Izobilye" rissole, saussages "A-la-Myasodvorsky",chop "A-la-Novgorod",
"Slavyanskoye" meat,"Pikantny" zrazy (meat pies stuffed with rice, buckwheat, mashed potatoes, etc.);
wide choice of pastries, soft and hard drinks.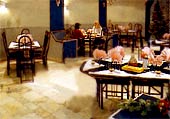 "CHARODEIKA" cafe
Open: 10 a. m. - 11 p. m. , no closing days.
Seats 36 persons at a time;
Always wide choice of hot and cold appetizers:
sandwiches, pizza, hot frankfurters, and others;
fine cocktails;
ice-cream;
sweets and pastries;
wide choice of hard and soft drinks;
juices.