Kazan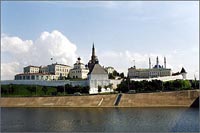 Nestled in Russia's interior, on the right bank of Europe's largest river, the Volga, is the historic city of Kazan. This 10 century-old intersection of eastern and western cultures boasts some of Russia's oldest architectural masterpieces. A tour of Kazan's Old City will take you back to a medieval time as you walk in the white silhouette of the Kremlin Wall, or view the legendary Sujumbike Tower.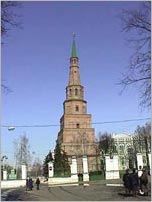 Sujumbike Tower
Legend has it that in the 16th century Ivan the Terrible built the tower for Kazan's Queen Sujumbike, in hopes of impressing her into marriage, yet she climbed to the top and leapt to her death in defiance. Kazan is a city full of legends like this, immortalized by Russia's most treasured writers, Leo Tolstoy and Alexander Pushkin, who both lived and wrote here.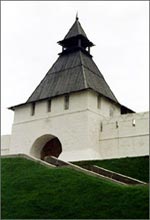 Kremlin
Kazan is a city of terrific culture, boasting 16 professional theaters, 27 museums, a State Symphonic Orchestra, and annual festivals like the International Opera Festival or the festival of Classic Ballet. Yet Kazan's nightlife offers a variety of nightclubs, sports bars and restaurants! When you and your lovely Russian lady have had your fill of the nightlife, you can end the evening with a romantic walk along the Volga's riverbank.