Giuseppe ****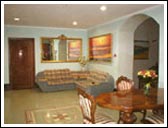 The Giuseppe Hotel Kazan was built in 2000 and the new buildings were constructed in 2003.It is a wonderfull hotel situated in the centre of Kazan. 50 -room hotel located in the historical center of Kazan. All rooms are equipped with shower/WC, conditioner, mini-bar, TV, telephone, hair-dryer, refrigerator. The hotel made a high reputation with VIP-guests because of its Luxury and European stile.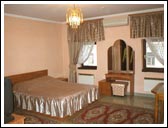 Facilities:
Computers with Internet access
Satellite TV
Conference hall (75 sits)
Restaurant (30 sits)
Laundry
Bar (15 sits)
Cafe (15 sits)
Sauna
Adress:
Kremlevskaya Str., 15/25, Kazan, Russia, 420111
Make your reservation now!