Irtysh ***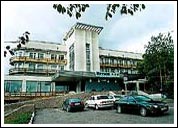 The three-star Irtysh Hotel (4 floors, 76 rooms), built in 1988 and reconstructed in 1998, is located on the bank of the Irtysh river in the central part of Omsk. It is surrounded by picturesque forest called Starozagorodnaya Roscha.
Airport - 25 minutes. Railway station - 25 minutes.

The hotel has restaurants, big concert hall, conference halls, banquet hall,
cafeterias, sauna, busness - centre, barber's shop, pharmacy and taxies.
Adresse:
155/1 Krasny Put ulitsa
Make your reservation now!